China Disc Feeder Manufacturers
KR Disc Feeder
The disc feeder is a common feeding equipment for medium and fine-grained materials. It consists of a driving device, a feeder body, a belt conveyor for metering, and a metering device. The function of seat type disc feeder is to continuously, uniformly, stably, and accurately supply the material in the storage equipment to the subsequent processing or conveying equipment within a certain period of time. It feeds evenly, is simple to adjust, and is easy to operate. , The operation is stable and reliable, and it can withstand large warehouse pressure.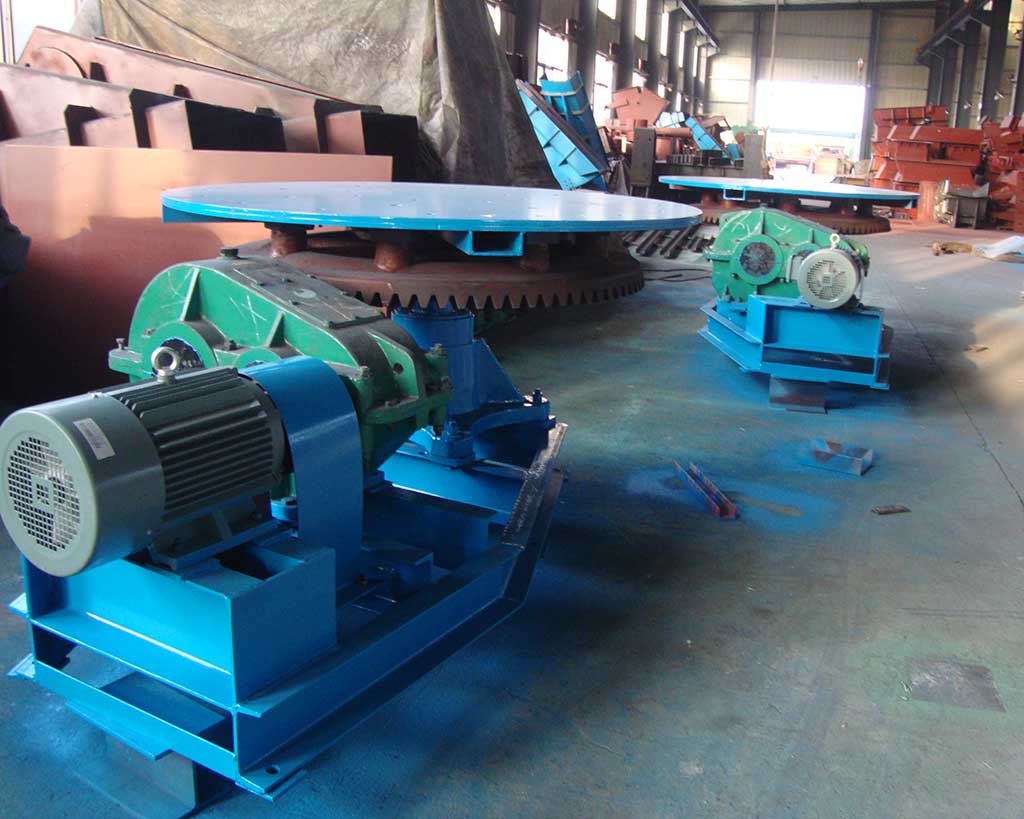 KR pedestal disc feeder is suitable for feeding all kinds of non-viscous materials, but not suitable for powdery materials with good fluidity, such as quicklime, cement, etc.
Apps and Features
The KR series seat-type disc feeder is mainly used in the production process of coal preparation, ore dressing, building materials, electric power, and other industries. This series of feeders is driven by the motor through the cylindrical gear reducer with different speed ratios. The disc body of different specifications and diameters made.
Users should pay attention to the following items when choosing
The transmission arrangement is divided into Type I and Type II according to the relative position of the reducer and the disc. If there is no specified requirement, it will be supplied as Type I;
The feeding sleeve of the KR seat disc feeder is open;
The disc lining plate of the KR series seat-type disc feeder is supplied by a 16Mn steel plate;
Products with special technical requirements or auxiliary design requirements can be designed separately.
Technical parameter table
| | | | | | | | | |
| --- | --- | --- | --- | --- | --- | --- | --- | --- |
| Model | Disc. Dia(mm) | Particle Size Max(mm) | Motor Model | Motor (Kw) | Rotating speed | Capacity m3/h | L×W×H(mm) | Weight/kg |
| KR10 | 1000 | 40 | Y112M-6 | 2.2 | 7.5 | 14 | 1752×1000×650 | 740 |
| KR15 | 1500 | 55 | Y132M2-6 | 5.5 | 7.5 | 25 | 2354.5×1500×720 | 1280 |
| KR17 | 1700 | 60 | Y132M2-6 | 5.5 | 7.5 | 50 | 2354.5×1700×720 | 1320 |
| KR20 | 2000 | 80 | Y160L-6 | 11 | 7.5 | 100 | 3794.5×2000×810 | 1754 |
| KR30 | 3000 | 100 | Y200L1-6 | 15 | 7.5 | 150 | 4090×3000×993 | 2990 |
Shape and installation dimensions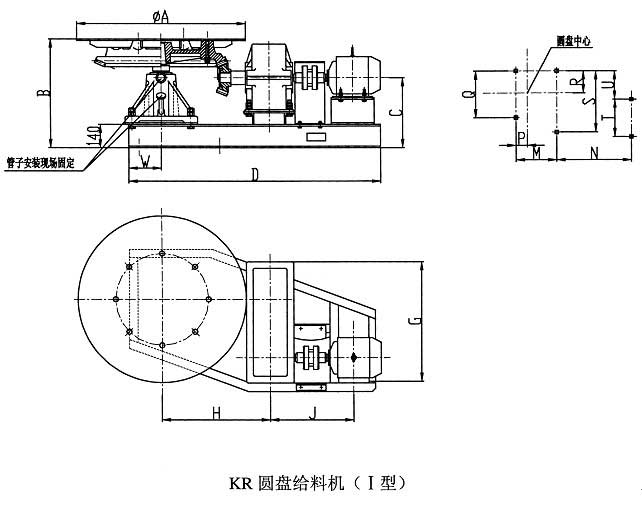 | | | | | | | | | | | | | | | | | |
| --- | --- | --- | --- | --- | --- | --- | --- | --- | --- | --- | --- | --- | --- | --- | --- | --- |
| Model | A | B | C | D | G | H | J | M | N | P | Q | R | S | T | U | W |
| KR10 | 1000 | 650 | 420 | 1489 | 720 | 583.5 | 480 | 479 | 880 | 133 | 560 | 265 | 735 | 450 | 340 | 203 |
| KR15 | 1500 | 720 | 440 | 1750 | 920 | 797.5 | 550 | 550 | 1060 | 203 | 650 | 315 | 870 | 600 | 390 | 253 |
| KR17 | 1700 | 725 | 440 | 1750 | 920 | 797.5 | 550 | 550 | 1060 | 203 | 650 | 315 | 870 | 600 | 390 | 253 |
| KR20 | 2000 | 810 | 440 | 1994 | 1030 | 817.5 | 705.5 | 920 | 920 | 200 | 660 | 315 | 1100 | 615 | 485 | 253 |